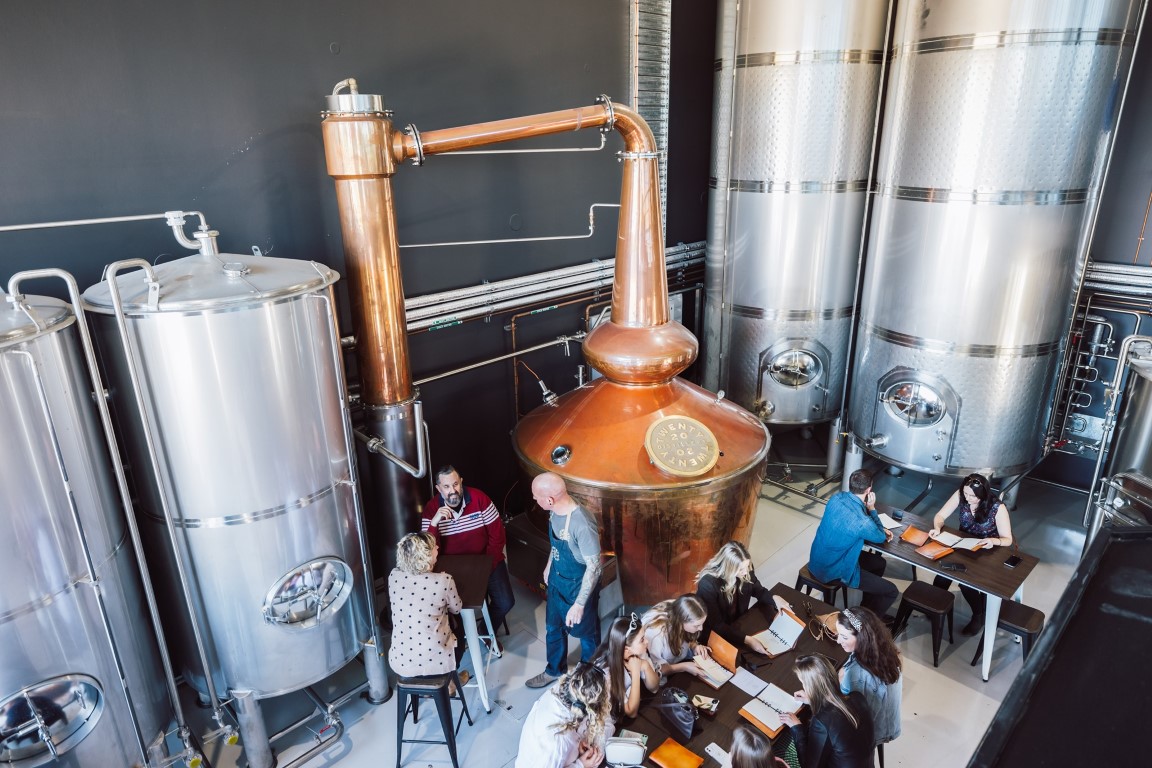 Looking for awesome brewery and distillery tours around Noosa? Then you've come to the right place – the heart of Noosa's craft brewery scene is only minutes from our renowned beaches and Noosa River Retreat.
Not only will you taste some exceptional craft beer, locally foraged botanicals in smooth gin and vodka, you'll get to explore the natural sights of Noosa, meet the locals and other holidaymakers.
Check out our guide to Noosa's breweries and distilleries from the coast to the hinterland.
Land and Sea Brewery
Land & Sea Brewery in Noosaville and 'Fortune' Noosa Heads Distillery combine their excitement for fantastic craft beer and fine spirits with you!
The lovely team at Land & Sea care about the natural ecosystem, which is evident in their solar-powered building and sustainably sourced ingredients. Treat you and your partner with a brewery grazing board, boasting a selection of cured meats, local cheese, preserves and fresh bread.
Their brewery and distillery tour offers all the insight into sustainable practises and in-depth knowledge on how they produce their craft beer and fine spirits. For 90 minutes their passionate team will take you on an immersive experience, including a free tasting paddle of both 'Fortune's fine spirits and Land & Sea's craft beers for $55 per person.
Boiling Pot Brewing Co.
Boiling Pot Brewing Co, in the heart of Noosaville, creates beers customed to Noosa's tropical lifestyle and were inspired by the passion for and innovative craft brewing throughout the whole world. Some of the locals' favourites include the Guava Sour, Bat Migration Black Lager, and the Golden Ale just to name a few.
The Boiling Pot Brewery is inspired by Noosa's very own 'Boiling Pot,' which is the first headland in Noosa National Park. It's hard to miss, with views from the North Shore to Tea Tree Bay and out to infinity across the Pacific.
Select from a delicious range of traditional house-made pizzas including gluten-free and vegan options. The European inspired cuisine compliments their crisp-tasting beers. Head over to the Boiling Pot Brewery on a Sunday to enjoy some delicious plates, live music, and local beers.
Heads of Noosa Brewing Co.
With a passion for lagers and a focus on quality, the team strive to produce truly enjoyable beers for everyone. Inspired by the nearby rocky headlands of Noosa Heads, this brewery has become one of the favourites among the locals and visitors.
At Heads of Noosa, they love their lagers and embrace the challenges in creating them. Being a more subtle and refined style of beer means that there is nowhere to hide off-flavours. Their lagers have a unique brewing process, spending around twice as long in the tank as ale, creating that delicious taste.
Whether you pop in for one of their afternoon specials, grab a tasting paddle, or make a day of it with their brewery experiences, visiting the Heart of Heads is a must whilst in Noosa.
Eumundi Brewery at the Imperial Hotel
In the charming hinterland village of Eumundi, just a 20-minute drive or 30-minute bus ride away from us, you'll discover the iconic Imperial Hotel, home to the Eumundi Brewery and Eumundi Distillers. This traditional Queenslander hotel offers comfort food, ice-cold beers and a welcoming team.
Discover what makes their craft beers great, understand the beer-making process and sample one of the beers. We recommend booking the free 15-minute Eumundi Brewery Tour and Taste.
You will instantly feel relaxed walking into the Eumundi Distillers, boasting colourful decor, sweeping verandas and local art, this iconic hotel is certainly one of Sunshine Coast's must-do brewery and distillery tours. The distillery produces small-batch handmade spirits using the best UK juniper and featuring the finest botanicals mixed with local Cooroy Mountain spring water.
20 20 Distillery
20 20 Distillery is in a beautiful part of the Noosa hinterland in a small town called Cooroy, a 25-minute scenic drive from us and just 10 minutes from Eumundi.
Their distilled spirits are cut on the still 'The old-fashioned way' by smell and taste, each hand-bottled and hand labelled. Enjoy their pink gin, a favourite for locals, paired with a bubbly tonic. This gin has a sweet raspberry nose with a full juniper hit and light citrus notes on the back end.
If your feeling adventurous you should try their unique cocktails. They offer a range of spicy cocktails – but warning, they are not for the faint-hearted. Be sure to pair these drinks with a Distillers charcuterie, or cheese board.
Pomona Distilling Co.
The Pomona Distilling Co is in the lovely village of Pomona, only a 30-minute drive from us. Savour small-batch spirits focused on quality rather than quantity. The gorgeous gin blends use native organic botanicals, some foraged straight from their Pomona farm.
Set in the original Pomona Bakery, dating back to the early 1900's, you can enjoy hearty food in the Bistro or out in the large beer garden. Socialise in the Garden bar, check out the art gallery, wine cellar and rustic Stillhouse – home to an enchanting 200L copper still!
Brewery and distillery tours
The best way to see all the distilleries and breweries and to enjoy a few drinks is to go on a tour! Sit back and relax on a fully guided day tour to 3 or more brewhouses and distilleries that includes a driver and lunch!
Plan your tour:
Sunshine Coast Craft Beer Tours
Noosaville Accommodation
Our boutique resort is within easy reach of all the fantastic breweries, where you can choose to drive, catch the bus or book a Noosa brewery and distillery tour.
Choose between our classic rooms, all located on the ground floor, or go for our deluxe rooms, which are on the ground and first floor and have all been newly renovated. All rooms look out to our beautiful tropical gardens, solar heated pool and heated spa.
Start planning your Noosa holiday!
Featured image: 2020 Distillery