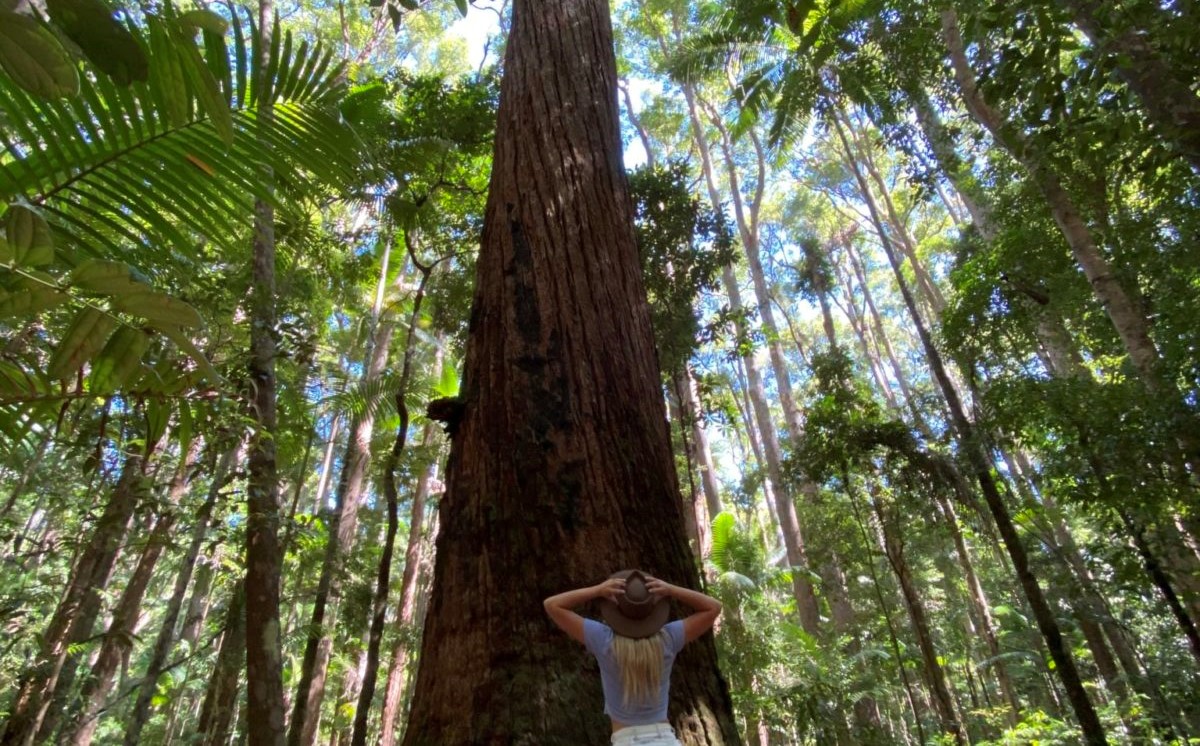 Who doesn't want to set foot on the iconic Fraser Island? Aptly named K'gari, pronounced "gurri", meaning paradise – it's what the Butchulla people have always called the island.
Fraser Island tours are one of the best ways to experience the largest sand island in the world, spanning 123 km down and 23 km across. The immense sand dunes are part of the longest and most complete age sequence of coastal dune systems in the world and are still evolving!
Get ready to spot some incredible native wildlife that call Fraser Island home, comprising 354 species of birds, 79 species of reptiles, including the gigantic, friendly Lace Monitor, Australia's purest dingos and more!
It's no wonder that this World Heritage-listed Island entices thousands of tourists to its shores each year with its distinct landscapes and unique wildlife.
Exploring this one-of-a-kind island will offer you a renewed appreciation of our world's natural beauty and why it's important to protect these incredible places.
Experience a K'gari Fraser Island tour like no other
K'gari Fraser Island Adventures offer you more than just a sightseeing tour, they not only look after you well, but also care deeply about their impact on the island and the environment.
Dedicated to sustainability, their K'gari Fraser Island tours are aligned by the first law of the island: 'what is good for the land must come first'. Throughout your tour you'll be part of a group respectfully exploring K'gari, whilst listening to the island's stories and honouring Australia's First Nations Peoples by leaving only footprints and taking only photos.
K'gari Fraser Island Adventures offer a local and personalised experience, headed by Hana and Mark, a nature loving pair. Offering K'gari's most sustainable and culturally progressive Fraser Island tours, you'll be blown away on this truly spectacular adventure!
There're so many natural wonders throughout the island, which is why you'll need more than a day and could easily go back time and time again…
K'gari adventure tour packages
Tours depart from Noosa and Rainbow Beach and the longer you spend on this magical island, the better! As well as several features and inclusions unique to each tour.
Choose from five unforgettable tours and be prepared to be blown away…
Adventure Tour – The signature 3 day/2-night tour will take you on a journey across time, where you can connect to this magical island.
Nature Escapes – This 3 day/2-night tour is at a slower pace and are the smallest group tours for eco people that want to embrace nature to the max.
Family Adventure Tours – This 4 day/3-night tour is tailored to the pace of family life uniquely blended with a guided experience and self-drive adventure.
Exclusive Tours – Plan a tour exactly the way you like it and get a fully catered experience, so you can be completely taken care of.
Conservation Experience – Take a 3 day/2-night tour where you'll learn about the island's incredible biodiversity. Half your trip will be out exploring and learning, the other half giving back and caring for K'gari.
Highlights of K'gari Fraser Island tours:
Crystal clear waters of Lake Boorangora (Lake McKenzie)
Cascading sand blow and emerald green waters of Lake Wabby
360 degree views of Tukkee (Indian Head)
Picturesque rusty icon of the Maheno Shipwreck
The frothing rock pools of Champagne Pools
The relaxing lazy river of Eli Creek
Towering Central Station Rainforest
Coloured sands of Rainbow Beach (departing Tours from Noosa)
Are you ready for this otherworldly experience?
4WD hire K'gari Fraser Island
Lead yourself on your island adventure by hiring a 4WD. This will offer you freedom, flexibility and FUN! These Toyota Landcruiser trucks are in their element in this terrain, and you will be too.
Bundle your Fraser Island 4WD Hire with accommodation and roam free for 4 – 6+ days. You'll get an audio guide, all the recovery gear, return barge and vehicle permit too.
Stay in eco K'gari Fraser Island Accommodation
Your island experience continues when you finish exploring each day and you are welcomed home to the Beach Camp Eco Retreat.
Lose yourself within the island and get to know the locals, who will help you make the most of your time in paradise. Whether you're travelling with your kids, friends or partner, the glamping and beach cabins nestled in the sleepy village of Second Valley is easily the best spot to stay on K'gari.
Stay in a place that's all about serving your experience and our precious environment. Glamping tents and beach cabins have been made lovingly for you with fresh linen, towels and eco-friendly toiletries.
With unrivalled ocean views, breathtaking sunrises and astounding star gazing, camping on the beach is an experience to cherish. Drift off to the sound of the waves and wake up to a dazzling sunrise over the ocean.
You'll rest well, cocooned on this incredible island!
Which accommodation will you choose?
Save 10% on Fraser Island tours and Noosa accommodation
If you stay at Noosa River Retreat pre or post your Fraser Island tour, you'll get 10% off accommodation with us and 10% off a K'gari Fraser Island Adventures tour!
To get this exclusive offer book via the K'gari Fraser Island Adventure website and use promo code: NOOSATOURS10. Pick up/drop off for the tours will be direct from Noosa River Retreat.
Stay in our classic or deluxe one-bedroom, self-catering apartments with balconies overlooking our tropical gardens pool and spa area, or our ground floor apartments, which have a private patio with no stairs.