Our Noosa River accommodation is ideal for a romantic couple's getaway in the beautiful Noosa. Featuring boutique one-bedroom apartments, our resort is located only a moments' walk from the Noosa River. We know deciding on your next romantic getaway can be difficult, read why our Noosa River accommodation is ideal for you and your partner!
Perfectly Positioned in Noosa
Our Noosa River Retreat resort is located within Noosaville, a relaxed riverfront community. The Noosa River offers a world of options to fill your holiday, from award winning eco-tourism activities and the best picnic spots to riverfront dining along the foreshore. Our resort is in a location that is easily walkable to the attractions of Noosaville and Noosa Heads. Take a relaxing stroll to breakfast along the river or hop in the car for a short 6-minute drive to the cosmopolitan Hastings Street.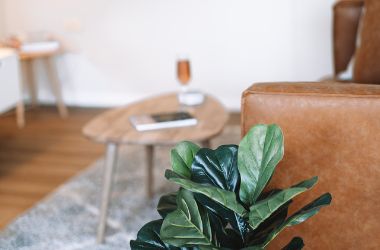 One Bedroom Noosa Apartments
Our boutique one bedroom Noosa apartments are ideal for couples, offering an intimate and modern space to retreat to after a day of exploring Noosa's natural beauty. With each apartment looking out to a beautiful tropical garden, you'll feel instantly relaxed. Boasting light filled open plan living and a spacious balcony to take in our tropical weather. Imagine waking up each day to the tranquil sound of our prolific birdlife.
The Noosa River Retreat offers free unlimited Wi-Fi so you can enjoy a movie in your apartment, a solar heated pool and gas heated spa for a romantic dip, and a shared barbecue area to stay in for a wholesome and easy afternoon.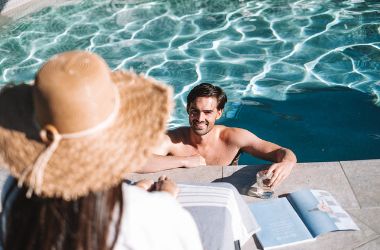 Ideal for a Romantic Getaway in Noosa
If you are seeking a romantic getaway in Noosa, we have got you sorted. Noosa is one of Australia's favourite couples holiday destinations, and for good reason. With so much to do and see, what better place to reconnect and relax with your loved one. This popular destination seamlessly delivers romance in a host of different ways and is best enjoyed with the one you love.

Noosa Activities for Couples
For a romantic holiday, we've put together some activities to do in Noosaville with your partner, from fine dining along the river to a relaxing couples massage. It's the ideal destination to unwind in everything this beautiful place has to offer. Try our Noosa activities for couples on your next visit!
Explore the Noosa Farmers Markets
Enjoy a morning stroll to the Noosa farmers market, where you'll find great local food and beautiful a bouquet of flowers to gift your partner.
Discover Noosa's biosphere with Noosa Boat Hire
Hire a boat with Noosa boat hire, and enjoy a day out on the river, taking in Noosa's pristine biosphere. We recommend parking your boat up on the sandbank, cooking a BBQ lunch, and enjoying a romantic dip in the water.
Spend a night in your Noosa apartment
Sometimes you just need a night in, with a great movie, a glass of wine, and some board games. You and your partner can spend the night in your own intimate comfort of your apartment, just enjoying each other's company.
Enjoy a romantic picnic along the Noosa River
The Noosa River boasts a beautiful foreshore for you to sit along and experience a spectacular sunset over the water. Shaded by an abundance of trees, it is ideal for any time of the day. Grab some takeaway from across the road or get creative with your own cheese platter,
Relax and unwind with a Noosa couples massage
Nothing says romantic day out like a couple's massage. Set in the heart of Noosaville, the Day Spa Noosa offers couples escape packages. You can enjoy a tranquil couples massage or opt for something more romantic like a rose petal bath, with a bottle of champagne and a bouquet of local flowers.
Experience fine dining at these Noosa River restaurants
No destination does fine dining like Noosa, so we have picked our favourites within walking distance from our resort. Only moments away is Quamby Place, which includes a variety of award-winning restaurants including the famous Ricky's, and Rock Salt. Or walk along the Noosa River to find the Noosa Waterfront Restaurant, 250 Grammi, Frenchie's Noosaville, and the Noosa Boathouse.
Find more Noosa River restaurants here.
Book your next romantic getaway at our accommodation on the Noosa River
Why not treat your special partner to a romantic getaway. Did you know when you extend your 4 nights stay, we gift you with a free extra night. Come and experience beautiful Noosaville with your loved one.